Welcome to KIGUSURIYA
Our cosy little Japanese style inn is full of history and a real treat for anyone interested in Japanese culture. We have been living on this plot of land for at least 15 generations. Currently 3 generations live here together and run the inn together with a relaxed family atmosphere. As well as a comfy Japanese style room the price also includes a full Japanese style breakfast and dinner as well as a hot tub which is water taken from the mountain stream behind the inn and heated up.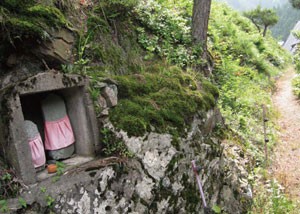 History
Our inn lies on the "Saba kaido" or mackerel road, a famous route which used to connect Kyoto and other inland cities with various fishing villages on the Japanese sea to the north. Without roads and with several mountains in their path the fish carriers would strap a heavy load of mackerel on their backs (wrapped to stay cool and fresh) and set off at a jog to cover they 70 kilometres to Kyoto city in one day.
After a night in Kyoto they would often stay at Kigusuriya on their slower (no doubt nursing sore legs) more relaxed return trip to the coast.

In Meiji period(about 100 years ago), we were pharmacy (in Japanese called Kigusuriya). That is why our name is KIGUSURIYA. Now we still have old books and notes about medicine.
In 1919, we established as a Ryokan. So many guests enjoyed our traditional Japanese foods and healed theirselves until now.
[NOTICE]
It takes about 90 minutes from central Kyoto  to come here.
We don't recommend our Ryokan for the guests who want to enjoy Kyoto city area's trip.
Here is too inconvenient to sight seeing in city area.
But we really recommend to the guests who want to enjoy rural Kyoto.
You will be able to see ordinary Japanese life and beautiful untouched scenery.