Free shuttle service *reservation required    *until the end of March, 2019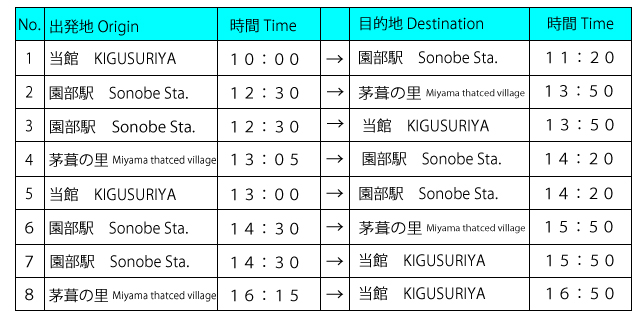 * When book your room, please book your shuttle services.
* If you can not use these services, please come to our Ryokan by public transportation.
*Please notify by phone or e-mail when you change your reservation on the day.
*The buses depart on time and cannot wait for guests arriving late.
☆ Sightseeing transportation suggestion☆
Take the N0.2 bus from Sonobe station to Miyama thatched village. After sightseeing, take the No.8 bus from Miyama thatched village to our Ryokan. After check-out, take the No. 1 bus to Sonobe Station.
Car is by far the easiest way to come here, but if you stay at Kigusuriya we will provide a complimentary shuttle from the nearest mainline train station (Hiyoshi) to the inn (40 minute drive). Although its out of the way and takes time to get there we offers a unique experience to our visitors.
◆Public transport
JR Sagano line "Hiyoshi"station →
Nantanshi public bus "Tsurugaoka"stop→
15minutes on foot.
We can pick up guests at the JR San-in line "Hiyoshi"station,
Kayabuki folk village, or Ohno Dam.
◆By car
Kyoto Jukan Jidoshado Expressway"Sonobe I.C."→45minutes by car
We have parking for the guests.
<From Kyoto city area>
It will take 90 minutes by car.
By using JR line and our shuttle service, it will take 80 minutes.
<From Osaka>
It will take 110 minutes by car.
By using JR line and our shuttle service, it will take 120 minutes.